Thomson Reuters
provides professionals with the intelligence, technology and human expertise they need to find trusted answers. We enable professionals in the financial and risk, legal, tax and accounting, intellectual property and science and media markets to make the decisions that matter most, all powered by the world's most trusted news organization.
Watch the video to know what makes Thomson Reuters The Answer Company (1:24)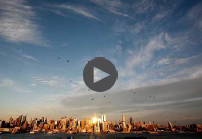 WE ARE LOOKING FOR A NEW COLLEAGUE:
News Assistant, Gdynia newsroom
(Contractor Position/Fixed Term Contract)
YOU RECEIVE:

access to our products, including Eikon, with
real-time economic
and stock data

global career & growth opportunities, and friends
all over the world

training & certification offerings

pension scheme,
referral scheme, social
fund bonuses and gifts

private healthcare
with Medicover and life insurance with Generali

wellbeing scheme
with Multisport Card,
Weekly Fruit Day
and Sport Teams

additional 2 days
off for voluntary
work

flexible working hours

availability of professional counselling with
Employee Assistance
Program
OVERVIEW: Reuters is seeking a News Assistant to provide administrative support to the global news agency's bureau in Gdynia, Poland. The successful candidate will be highly organized and flexible, an expert in the preparation and management of spreadsheets and responsive to the needs of a busy and growing newsroom. S/he will play a key role in managing staff rosters, compiling diaries of upcoming news events and organizing travel, logistics and other tasks in a bureau that covers financial news from 20 European countries. Fluent English and Polish is essential for this role. Knowledge of other European languages is an advantage.
RESPONSIBILITIES:
Providing a wide range of professional administrative services and support to newsroom members and visitors
Maintaining databases and spreadsheets to help day-to-day editorial office functions
Coordination with news assistants in other bureaus
Cooperation with site support teams, including IT, Human Resources, Learning, Communication Specialist, Security and Health & Safety
Travel organization assistance, onsite and offsite events, conferences and meetings coordination
Invoices and expenses reconciliation
Monitoring of other media, including websites of competitors.
QUALIFICATIONS/COMPETENCIES:
Fluent English and Polish
Knowledge of other European languages an advantage, though not essential
Computer literacy, including effective use of MS Excel, MS Access and other MS Office tools
Sound organizational skills
Accuracy, detail and focus
Confidence to cooperate and communicate effectively across teams, functions and time zones
Flexibility and reliability around unpredictable time constraints and schedule changes
Ability to multi-task and adapt to changing priorities
Ability to meet deadlines
Punctual and willing to learn
Positive and energetic personality
OUR OFFER:
Job in an international, dynamic environment where you contribute to building innovative solutions for business professionals
Intensive training package
Wellbeing scheme including private healthcare and Multisport card
High standards of ethics in the workplace
Networking opportunities
Two additional days off for voluntary activities